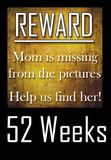 Carin over at
"Forever in Blue Jeans"
has been hosting "52 Weeks" for the past year. She has started a new theme called "Shoot Me" with the same premise which is for us moms to be in the picture(s) on a weekly basis and post about it. I'm still working on the former theme and encourage you to come along and give it a try.
I have yet to post about our trip to Germany and Austria, although I have mentioned it on several occasions and have even included a photo or two.
Melanie and I were really, really cold, but we enjoyed having our picture taken while in Rattenberg, Austria. We all went to see this little village that is transformed for the Advent season every year. People come from all around to visit this quaint town where there are singers, performers, and great little shops to buy Bavarian clothing or maybe even a cuckoo clock. It all depends on what you're after.
Braaten and I were having a sweet cuddle on Daddy's leather rocker. It's easy to fall asleep in that chair.
Just before Christmas my mom's sister, my Aunt Judy, came for a visit. My mom's cousin, Betsy, whom I lovingly call Aunt Betsy, was with her. We shared such a lovely time together for the 8 or 9 days that they were here. We enjoyed serving them and just spending time together.
My Aunt Judy was always there for all of us. She spent lots of time with our family. She and my mom were best friends, at least the way I saw it. They were always very close and shared sister secrets. I'm sure my mom, being a mother of 7, received much support from Aunt Judy. She was and still is our fun aunt. She does cooky things and you just have to laugh. She and I re-bonded since I haven't spent much time with her over the past 15 + years. I went away to college in 1988 all the way in Davenport, Iowa and have been away ever since. Needless to say, I will always cherish the time the Lord provided for us recently.
This is Aunt Betsy. My grandmother and her mom were sisters. She is one of 8 siblings. I don't know them very well as they lived in Pennsylvania while we lived in NJ. They were all busy raising their families as was my mom was busy raising all of us. Mom would refer to her cousins often and loved her Aunt Lou very much.
My beautiful Melanie
Since we got so much snow the other day, we have been taking lots of pictures. It might just be for proof that northwest England actually can and does get snow even if only once ever 30 years or so. Actually, there are parts of England that regularly get snow, it just doesn't happen in Lymm, England very often. It is so rare that the schools have been closed for 3 consecutive days and some might just finish off the week that way. My hubby was even asked to work from home for today and tomorrow just so they can clear out the parking lot. Doesn't that seem funny?
My beautiful Braaten. She turns 12 tomorrow.