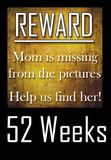 Carin over at
"
Forever in Blue Jeans
"
has been hosting "52 Weeks" for the past year. She has started a new theme called "Shoot Me" with the same premise which is for us moms to be in the picture(s) on a weekly basis and post about it. I'm still working on the former theme and encourage you to come along and give it a try.
This is the cheek-to-cheek of my girl, Braaten, and I on her 12th Birthday.
Melanie and I were sitting at the computer and took the opportunity to get our picture taken together.
~~~~~~~~~~~~~~~~~~~~~~~~~~~
Are you wondering about that title and these 2 photos? They're totally unrelated.
You know how I've recently mentioned that we will be moving back home~ to Michigan, that is. For at least a couple of months we have known our return date to be some time in March. At this writing, I still don't have an exact date, but it will be in March for sure. There was some amount of question as to whether it would be later than that.
We have recently, or daily for the past 90 days, been looking at properties on-line and have only found a handful that meet our criteria. It's not that we are so picky, there's just not a lot out there to choose from. At the beginning of this week one more was put on the market that really piqued our interest. We felt that we needed to move forward quickly to see it along with the other homes to make a choice.
And after my husband made all of the phone calls to the relo team and others, we are able to get on a plane... TOMORROW!!
Yikes! I'm not even packed! Our children are coming with us and are staying with their grandparents. Boy are they excited! In fact, my in-laws don't even know we are coming yet. That's how crazy, last minute all of this is.
Did I mention that we will be on a return flight on Monday? Can anyone say jet lag to the enth degree. Is there possibly a small chance that jet lag will not set in since it's such a short trip?Maybe that's just wishful thinking.
I would truly appreciate, and be very thankful for, your prayers for safe travel. Until we meet again...