Carin at
"Forever in Blue Jeans"
is the host of this year-long meme. She came up with the idea to have moms get "in the picture" for a change. After all, we are often the ones taking the photos. I've decided to take the challenge and am enjoying being a part of it. Come and join her. If you do, just link up to her blog.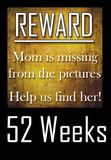 I had one of the children take this photo of me which has nothing to do with cookie baking per se, but it had everything to do with tree decorating and Christmas, so I posed and here it is. A couple of my kiddos thought it was a little too posed, but that's ok in the name of "52 Weeks", right??
Every year, one of our traditions is to make lots and lots, or loads and loads as they say in England, of cookies. We make all different recipes and then plate them up and bring them to neighbors and friends. The rest is put into freezer bags to enjoy throughout the Christmas season. Before my dear dad passed away, he enjoyed joining in on our tradition. He loved cooking, baking, and most of all, being with his family. It brought him incredible joy. I really have to write a post about my dad soon.
My dear hubs is a cookie dough makin', dough rolling, frosting mixing, dough dividing genius. He typically is the one to make the dough needed for Christmas cut-outs. He's a food scientist, has worked with many thousands of cookies in the past, and currently works with cereal and morning snacks. This whole cookie business comes easy to him.
So on a Sunday, just a couple of weeks ago, we set out on our cookie mission.
Grant was helping me mix dough to make lebkuchen, a traditional German, spiced cookie. Shawn's mom always makes lebkucken, but her version is hard, which all of her children love. I don't have her exact recipe, so I found one on the internet. Note to self: ask Mom for that recipe. (Mine turned out well, but they weren't Mom's).
Shawn, in his math prowess, divided up the dough perfectly for each child to roll out and cut their favorite shapes.
Did you know these guys, our identical twins, were born on Christmas Eve? Just thought I'd share. I had their birthday party this year in November just so they would have a special time all their own. I have yet to post about it.
Megan and Amy, my girls' friends, were over to join in on the Busse Baking party. They really enjoyed themselves. (In the photo: Melanie and Megan)
By this point all of the cookies were being frosted and decorated.
I think this is half of what we made. We made 4 different types of cookies that day.
And last night, I had a cookie exchange (which is a foreign concept here in the UK) at my house and had made 4 dozen each of two types of cookies. I had 7 ladies show up and we had a great time. I have no pictures. Can you believe it? The women really loved the idea of exchanging all kinds of cookies and getting to take them home.