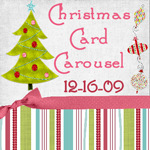 Faith over at
"Walk With Me By Faith"
is hosting this fun, Christmas meme called the "Christmas Card Carousel". Please link up over at her blog and show us your Christmas card.
Every year, my husband traditionally writes our family Christmas letter. He has, once again, done his masterful work and wrote our letter that is to be read in the tune of a song we all know and love. That song being the theme to "Gilligan's Island". OK, so some of you might not, in fact, know the tune.
I chose this card in September and then realized the astronomical cost to send it from England to the States.
In order to try and be a little different from our previous years' cards, I chose to print the letter on vellum paper, fold it, and then put it on the back of the photocard like so.
The kids and I stamped this little snowman.