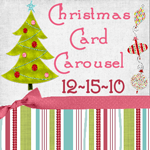 Faith at
"Walk with me by Faith"
hosts this carnival each year and I love it. It gives me the opportunity to 'send' you a Christmas card through my blog and wish you the most blessed, and beautiful Christmas.
I love what my friend put on her Christmas card. It reads, "May Christ's love be at the top of your list." And that is my hope for each one of you.
If it wasn't for Jesus, there would be no Christmas.
Merry Christmas from our home to yours.
Abundant Blessings,