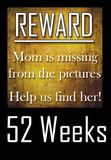 Shoot Me! (52 Weeks)
is a meme that Carin started over at "Forever in Blue Jeans." She says, "It's time to stop hiding behind that camera of yours. Your family is missing you in the picture. So it's time to post a picture of YOU (yes, you) every Thursday with your child, your spouse, your friend, your dog, or even by yourself. Just get in the picture, you'll be glad you did! And just jump in now with 1 of 52, you can do it!"
My girls and I brought Andrew & Jamie a meal since they recently had their sweet baby girl, Emma. Well he didn't have her, but you know what I mean.
She is such a pretty baby and the two of them make great parents. On the evening that I was there, Andrew was getting ready to head to work for the first time after being home for a week. The two of them were feeling sad about that and I could totally relate. Shawn always stayed home for about a week each time our babies were born. That's such a hard adjustment, but I know they will work through it.
Isn't that the cutest little outfit on her?
Melanie loved holding baby Emma. My girl looked like such a big girl holding her.
Braaten was loving having her own turn with the little sweetie pie. She begs me to have one more as if that's even possible.
We can just enjoy Emma, Honey.
Look at the adoration in Jamie's eyes for her precious little baby girl.